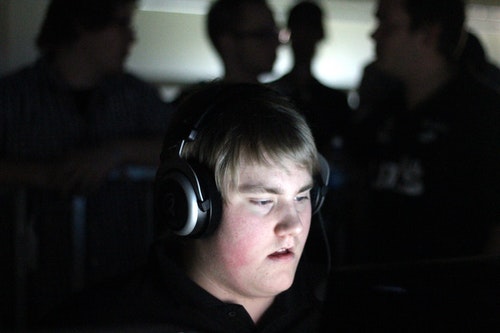 The Norwegian pro gamer represented two CS disciplines at once. He switched to CS: GO in 2014 but never achieved much success in it. At the moment, Thomas is no longer performing on the professional counter-strike scene.
| | |
| --- | --- |
| Name | Thomas Andersen |
| Date of birth | 21.09.1990 |
| Country | Norway |
| Teams | Nordavind.NO, Riddle Esports, MASY |
| Role | Rifler, Coach |
| Current team | Retired |
| Disciplines | CS 1.6, CS:GO |
Thomas Andersen Biography
The professional career of the Norwegian player with the nickname Vertigo started in 2009. Until 2014, he fought in CS 1.6. After the release of CS: GO, he switched to a new e-sports discipline.
Simultaneously, his performances were not very frequent and always took place as part of not too well-known mixes. Towards the end of his career, Thomas was a coach at MASY.
In 2019, he was invited to Riddle Esports. With this team, the gamer went to the semi-finals of Telialigaen – Spring 2019 and Telialigaen – Fall 2019. In 2020, the player moved to Nordavind.NO. As part of this team, he won at Fragleague 2020 – Regional Norway and took a 3-4th position at Telialigaen – Spring 2020.
Vertigo's config CS GO
This is Thomas' usual config.
Game launch options
The launch parameters of the Vertigo are as follows:
-novid -freq 240 -tickrate 128 -console -d3d9ex
Vertigo's CS GO crosshair settings
Vertigo uses current crosshair CS GO settings:
cl_crosshair_drawoutline "0";
cl_crosshair_dynamic_maxdist_splitratio "0";
cl_crosshair_dynamic_splitalpha_innermod "1";
cl_crosshair_dynamic_splitalpha_outermod "0";
cl_crosshair_dynamic_splitdist "0";
cl_crosshair_outlinethickness "1";
cl_crosshairalpha "200";
cl_crosshaircolor "1";
cl_crosshaircolor_b "250";
cl_crosshaircolor_g "250";
cl_crosshaircolor_r "250";
cl_crosshairdot "0";
cl_crosshairgap "-2";
cl_crosshairscale "0";
cl_crosshairsize "3";
cl_crosshairstyle "5";
cl_crosshairthickness "1";
cl_crosshairusealpha "1";
This commands should be used in console.
Vertigo's CS GO graphics settings
Screen resolution: 1280 x 960.
Refresh rate: 240 Hz.
Vertigo's tactics
Judging by the video of matches with the player, for Vertigo, CS GO was the place where he preferred to act according to the situation: the tactics for each specific case were dictated by the opponent's level of training and the features of the map.
How many hours does Thomas Andersen spend in CS: GO?
The Norwegian did not play in the pro arena very often, so it is unlikely that he has many total hours spent in Counter-Strike. Unfortunately, the Steam account statistics are hidden from view, and therefore the exact number is unknown.
Vertigo's CS: GO training process
For Vertigo, CS GO was interesting primarily from the point of view of aim, which he trained on the rather popular AIM BOTZ. The exercises' essence was to run around the map and try to kill the enemy from the first shot. Such training allows you to develop a skill that is very useful for a rifler.
Transfers
In CS: GO, Thomas played in only three teams – MASY, Riddle Esports, and Nordavind.NO.
How much did Vertigo earn in his career?
For Vertigo, CS GO did not become a particularly lucrative hobby: a pro player's total salary was only $ 1728 in prize money.
Personal life
For Vertigo, CS: GO has not become a hobby that takes up a lot of time. The gamer performed infrequently and probably had enough time for his other hobbies. But, there is no information on the Web about his other hobbies.
Vertigo's gaming devices
What kind of mouse does Vertigo have?
Zowie EC2-B (DPI – 800, sensitivity – 0.9).
What kind of monitor does Vertigo have?
Zowie by BenQ XL2546.
What kind of keyboard does Vertigo have?
HyperX Alloy FPS.