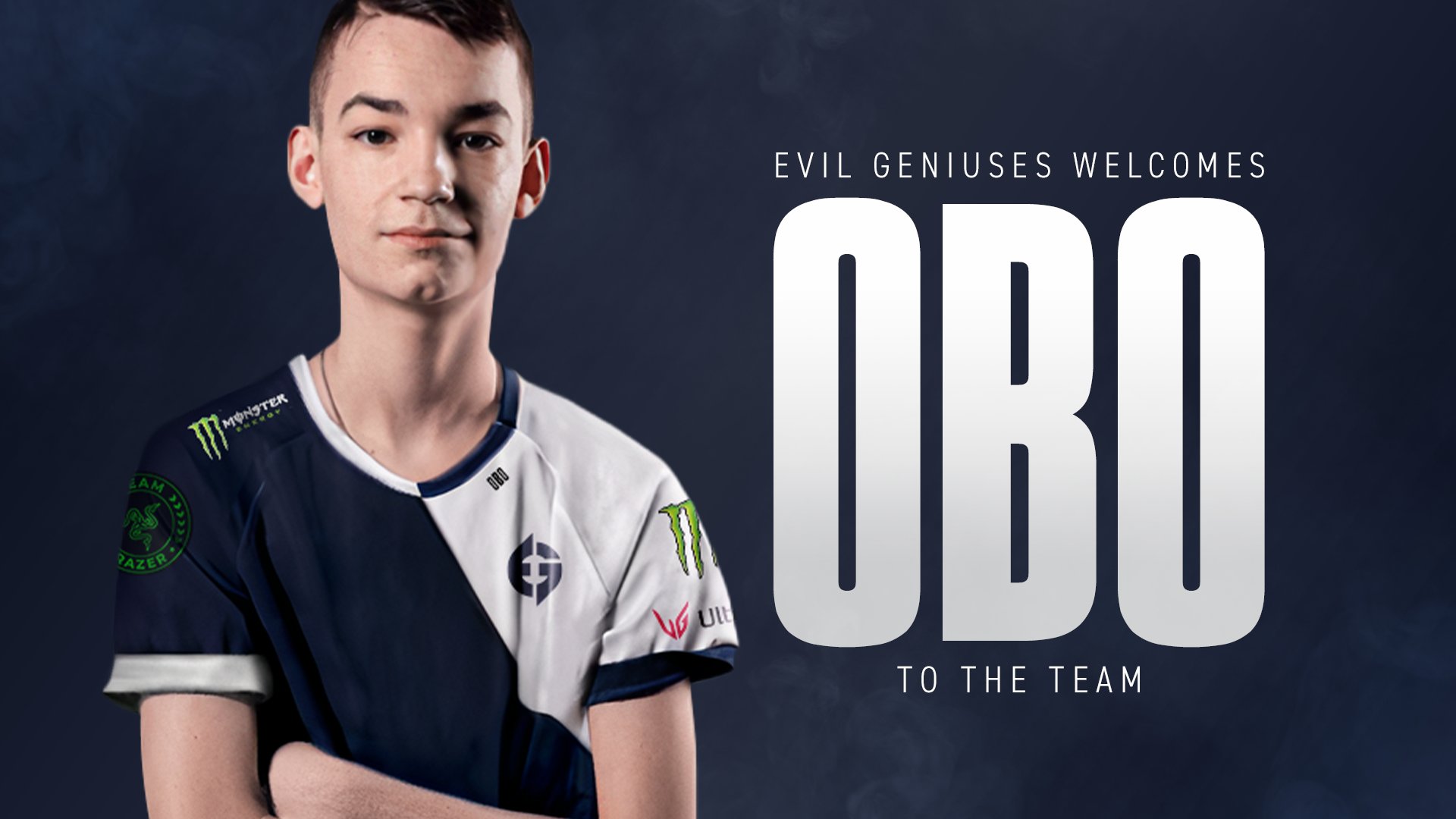 Player Owen Schlatter (oBo) in CS: GO
oBo is a young CS: GO talent from the USA: already at seventeen, he found himself in one of the most famous regional teams. Despite his youth, the pro gamer proved that he could fight and win: for 2020, he has 51.94% of victories.
| | |
| --- | --- |
| Name | Owen Schlatter |
| Date of birth | 26.06.2003 |
| Country | USA |
| Teams | Adaption, Guerrila Tactics, FeelsUnderAgeMan, Old Guys Club и Complexity Gaming |
| Role | rifler |
| Current team | Evil Geniuses |
| Disciplines | CS:GO |
Owen Schlatter's Biography
Like most counter-strikers, the player with the nickname oBo began his journey to the pro-game CS scene in early childhood. His passion for computer games, over time, allowed Owen to build a fairly successful career.
The first team in which oBo played was Adaption. In the team, the pro gamer did not achieve great success. The best result was second place in the North American championship.
This forced oBo to go free-floating to continue honing his own skills in the online leagues. Fortune smiled at Owen in April 2018, when he celebrated the championship in FACEIT Pro League Challenger – North America: April 2018. This allowed the guy to light up in the ranks of the local pros. However, participation in solo leagues did not prevent him from continuing to search for a suitable team.
First, there were Guerrila Tactics and later FeelsUnderAgeMan. Then oBo played in solo leagues again for a year and continued to improve his skills. This led him to the Old Guys Club. However, he did not stay there for long either.
In 2019, oBo moved to Complexity Gaming. With the new roster, the team's results are constantly progressing. So, at the beginning of 2020, she became the third at DreamHack Open Anaheim 2020. The guys' most significant achievement was the spring championship at BLAST Premier: Spring 2020 European Finals. However, this fall, oBo left Complexity to return to North America.
oBo's config CS GO
This is Owen's usual config.
Game launch options
The launch parameters of the oBo are as follows:
-tickrate 128 -novid -freq 240 -noforcemaccel -tickrate 128 +rate 786432 +fps_max 0 +cl_updaterate 128 +cl_cmdrate 128
oBo's CS GO crosshair settings
oBo uses current crosshair CS GO settings:
cl_crosshairalpha "200";
cl_crosshaircolor "4";
cl_crosshairdot "0";
cl_crosshair_t "0";
cl_crosshairgap "-2";
cl_crosshairsize "2";
cl_crosshairstyle "4";
cl_crosshairusealpha "1";
cl_crosshairthickness "0";
This commands should be used in console.
oBo's CS GO graphics settings
Resplution: 1024 x 768.
Format: 4:3.
Refresh Rate: 240 Hz
oBo's tactics
Owen plays with rifles regularly, providing his team with a ton of frags. Judging by the numerous videos with him, for oBo CS GO is a great place to have fun and shot enemies. Actually, we all love CS for this.
How many hours does Owen Schlatter spend in CS: GO?
At the moment, the gamer has more than a hundred official matches on his account. Of course, having been fond of CS since childhood, he played for thousands of hours. However, the oBo account statistics on Steam are unfortunately not available due to the corresponding privacy setting.
oBo's CS: GO training process
For oBo, CS: GO is a place where you need to grow constantly. Therefore, he loves to exercise on training karts like fast aim/reflex training and training aim csgo2. Here you can freely level up both accuracy and speed of reaction skills.
Transfers
During his relatively short career, oBo has participated in a fairly large number of teams. These include Adaption, Guerrila Tactics, FeelsUnderAgeMan, Old Guys Club, and Complexity Gaming.
How much did oBo earn in his career?
For oBo CS:GO is not only a hobby but also a place where also paid a good salary for a pleasant time. By seventeen years, an ordinary American boy managed to put together a pretty round sum of $ 141,265.
Personal life
Although for oBo CS: GO is still the most important hobby in his life, he also loves his family and prefers to spend his free time with his loved ones. This is one reason why he left his last team ahead of schedule and returned to the US and from Europe.
oBo's gaming devices
He has ZOWIE EC2-B Mouse (sensitivity – 2.2).
Owen's choice is HyperX Alloy FPS Pro keyboard.
The young CS: GO star uses ZOWIE by BenQ XL2546 Monitor.
FAQ
How much did the player earn in his career?
Owen has earned $ 141,265 throughout his career.
What are Owen's launch options?
-tickrate 128 -novid -freq 240 -noforcemaccel -tickrate 128 +rate 786432 +fps_max 0 +cl_updaterate 128 +cl_cmdrate 128