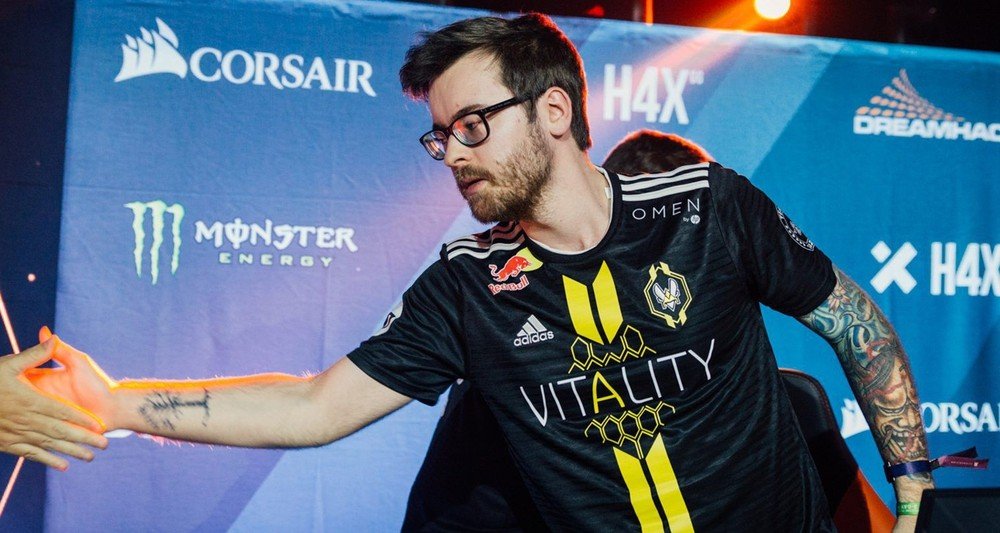 Player Nathan Schmitt (NBK) in CS: GO
NBK is a CS: GO pro gamer and twice a Major triumphant. The Frenchman's reliability and stability have repeatedly been the main factor in his teams' victories in various competitions, including two major events. Since 2013, he has regularly ranked among the top counter-strikers of the year.
| | |
| --- | --- |
| Name | Nathan Schmitt |
| Date of birth | 05.06.1994 |
| Country | France |
| Teams | VeryGames, Titan eSports, Mercenary, Team LDLC.com, Team EnVyUs, G2 Esports, Team Vitality, OG |
| Role | Rifler (entry fragger) |
| Current team | Retired |
| Disciplines | CS:GO |
Nathan Schmitt's Biography
The pro-gamer with the nickname NBK became interested in CS: Source in 2008. This led the guy to the fact that he ended up in the VeryGames team after a couple of years. In 2012, the Frenchman changed his discipline to CS: GO and successfully participated mainly in local clubs, including Titan eSports, Team LDLC.com, and Team EnVyUs. OG is the current team for NBK now.
NBK's config CS:GO
This is the NBK's config. To try out its settings, first, download the game in your Steam account.
Game launch options
The launch parameters of the NBK are as follows:
-novid -freq 144
NBK's CS:GO crosshair settings
NBK uses current crosshair CS GO settings:
cl_crosshairalpha 255;
cl_crosshaircolor 1;
cl_crosshairdot 0;
cl_crosshairgap -3;
cl_crosshairsize 2;
cl_crosshairstyle 4;
cl_crosshairusealpha 1;
cl_crosshairthickness 0;
cl_crosshair_drawoutline 0;
This commands should be used in console.
NBK's CS GO graphics settings
Resolution: 1280 x 800.
Format: 16:10.
Refresh rate: 240 Hz.
NBK's tactics
Watching the video with Nathan's participation, we can say that CS:GO for NBK is a reliable team play. As an entry fragger, the player is not afraid to speed up for the sake of teammates, even when it can be dangerous for him personally. He is always at the forefront of the attack and, despite the certain risk in his actions, he regularly brings results to the team.
How many hours does Nathan Schmitt spend in CS: GO?
Unfortunately, a gamer's privacy settings on Steam do not allow outsiders to see the amount of time a player has spent on CS. However, there is no doubt that we are talking about thousands of hours because only official matches the guy has at least a thousand.
NBK's CS: GO training process
For NBK, CS:GO is, first of all, accuracy and good reaction. Without them, he could hardly have been so useful for teammates. The following cards help Nathan to hone his skills:
training aim csgo2. Trendy and cool map for exercises in speed and aiming accuracy;
fast aim / reflex training. Also, a popular card among counter-strikers, on which you can both warm-up before the match and work out tightly. Its characteristic feature is that you can move in all 360 degrees, and some obstacles prevent you from shooting at bots.
Transfers
Frenchman Nathan NBK has played in several clubs during his career – VeryGames, Team LDLC.com, Titan eSports, Team EnVyUs, Mercenary, G2 Esports, Team Vitality, and OG.
How much did NBK earn during his career?
For NBK, CS GO has become a good financial help: the pro gamer's total salary for his entire career was about $ 826,123.
Personal life
For NBK, CS: GO is practically his whole life since it takes a lot of time and effort. Unfortunately, apart from the passion for e-sports, there is no information on the Web about how a gamer spends his free time.
Игровые девайсы NBK
What kind of mouse does NBK have?
Logitech G900 (DPI — 800, sens — 1,55).
What monitor does NBK have?
BenQ XL2540.
What keyboard does NBK have?
SteelSeries 6Gv2.
FAQ
What teams did Nathan play for?
VeryGames, Titan eSports, Mercenary, Team LDLC.com, Team EnVyUs, G2 Esports, Team Vitality, OG
How much did the player earn during his career?
The player earned almost a million dollars, namely $ 826,123.