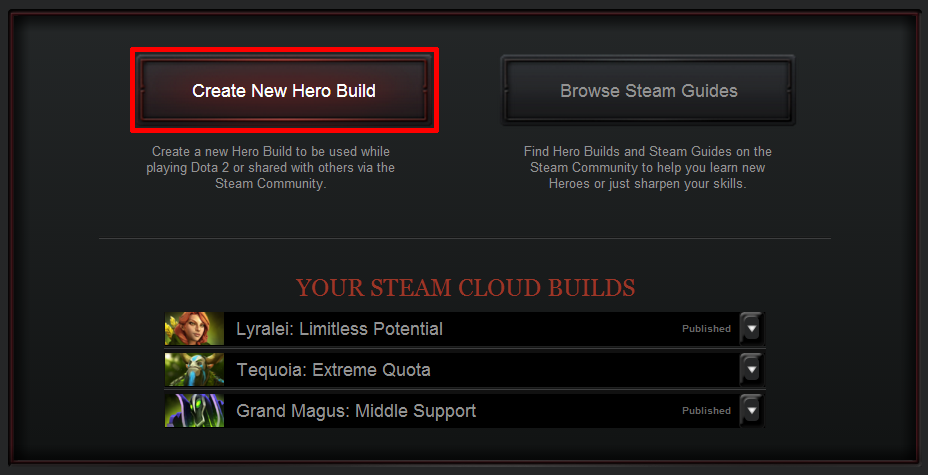 How to Create a Hero Build – Dota 2
This article is about how to create your build in Dota 2. Although many guides on this topic are sent to a third-party Dota 2 site to create a build, this is not convenient. In addition, most often, there are already old builds of Dota 2, which belong to outdated patches. Therefore, the article will discuss how to make builds right in the game and in any patch or meta.
| | |
| --- | --- |
| What is a hero build? | Build tells you which items are best for your character. |
| How is the hero build different from the Steam guide? | Builds instruct the player during a match on which item to buy now. |
| How to use hero builds? | You need to connect to the game and click on the "Hero Build Panel". Then, you can select the appropriate build. |
What are builds for in Dota?
They are needed so that you do not waste time looking for items to buy during the match. Even though Dota 2 is a situational game that requires different things in different matches, playing a bunch of rinks on one character is entirely possible to learn. For example, the player understands the in-game items that fit him best or suit him best for the current situation. So it remains only to create your build, and finding the right items will no longer take you time when playing.
Guide on how to make your own build in Dota 2
Dota 2 guide on how to create a Dota 2 build:
– Open the game's main menu and select the "Heroes" tab.
– Specify the character for which the assembly will be done. After clicking on it, the player will be directed to a special menu to see his own builds and winrate, which determines their usefulness for the gamer.
– Go to the shop and click on the pencil icon. After that, it will be possible to specify a name for your assembly, which can be completely random. Then, having decided on the name of the build, you can add and remove items from the inventory and change the standard items.
After that, you can go to the character menu, open the guides tab and make sure that you created a Dota 2 hero with your build. Then, having completed your own build, you can immediately try it out by going to the training map.
FAQ
How to create a guide in Dota 2?
In the section with heroes, you need to select the "Guide" item in the knowledge base. In this section, you have to choose a character for whom recommendations will be written. The assembly can be either classic, proposed by Valve by default, or your own. After that, just click "Copy". Now it can be edited by removing and adding columns or fields.
How to add other people's Dota 2 guides?
To get someone else's guide, you just need to click on "Add to Favorites" in the desired section of the service. Now the player will have permanent access to the added builds.
How to create items in Dota 2?
Creating Dota 2 items allows you to stand out among the players thanks to a unique item. You can get it in three easy steps:
Creation of a 3D model.
Submitting an item to the Steam Workshop.
Approval of the created thing.
In addition, you can earn money on the items you create: if they are approved, you can earn income from each unit sold in the game store.
Can I share my own builds?
Yes. To do this, you can use the option "Publish to the Steam Community …" on the character build page on Dota2.com.