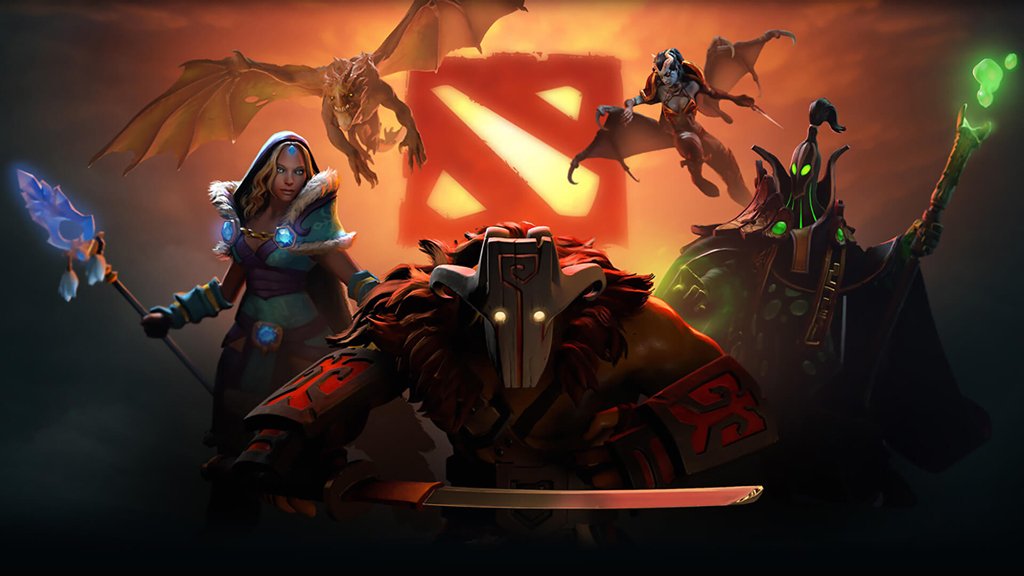 DotA 2 Settings
DotA 2 settings are divided into three main categories. Hotkeys, gameplay parameters, and graphics/sound. There will be a small description of what you will encounter by going into the game settings.
General Settings
Setup options – the second tab in the settings menu. It consists of a game, mini-card, camera, profile, network, chat.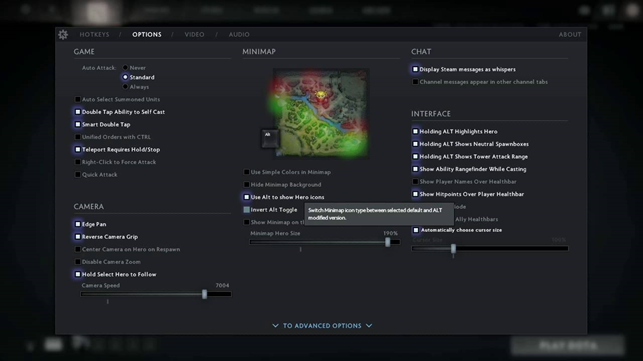 Tips below can make your game a little more comfortable, but still, every experience is making trial and error, you should make experiments, and eventually, you will find DotA 2 control settings that will be ideal for you individually.
In this menu, you can set the DotA 2 settings for yourself and your hardware. In order to the game would bring you only pleasure.
The only thing I want to say, if you don't know why the game lags, but everything should be super in parameters, try checking the connection quality "low."
All other effects somehow affect performance, so choose everything wisely, and do not forget that playing with real players and not with bots via the Internet will consume much more of your computer's resources.
Auto Attack
Standard option. This is the optimal setting. When using this feature, your hero will automatically attack a neighboring unit after applying an ability or after you have killed a unit with a regular attack. It is very convenient and practical, especially in group combat, but do not forget that your hero can attack the opponent you don't want, so you should always be very careful in the heat of battle.
Double-tap Ability to self-cast
A useful feature, but it all depends on what style of play you have chosen, as well as what hero you choose. If an object or ability can be applied to your hero, you can activate it by double-pressing the desired key, which will allow you to significantly simplify your game and not try to catch your hero with the mouse cursor in the thick of the battle.
Unified orders with CTRL
I do not find this feature useful. It is practically useful only when you panic and forget your control groups and units. Anything can be, and you may need everything at once, but do not forget that this may not have a good effect on the game if instead of the desired unit, you send the necessary one for your unit to death by accidentally using this function.
Stop/hold teleport with a separate button
This is one of the best options for you, in my opinion. This allows you to shift the queue of your action during teleportation without actually changing the queue (which means you cannot undo the action without canceling the teleport). This will allow you to determine the next steps on the battlefield in a short teleporter time.
Stop/hold ability with a separate button
Handy feature. It is preventing accidental cancellation of your spells. Often used as the default settings for DotA 2 Pro players.
Quick Attack
The same option as the rapid application; the function allows you to perform actions faster, more comfortable, and reduces the load and the number of clicks.
Quick Move
Same.
Visual settings of interface
Then we can see the visual settings of DotA 2, and everyone can experiment and choose for themselves, for their convenience, one or another size of the icon on the mini-map, and so on. Here you can safely copy the settings of Pro players of DotA 2, as this is just a visual.
And now we are moving on to the most interesting.
DotA 2 control Settings
It is essential to make your DotA 2 control settings comfortable. But do not forget that the DotA 2 settings fo pro players differ from the standard ones and are not suitable for everyone. For example, the settings of DotA 2 of pro players are very situational, and they may not suit your playing style.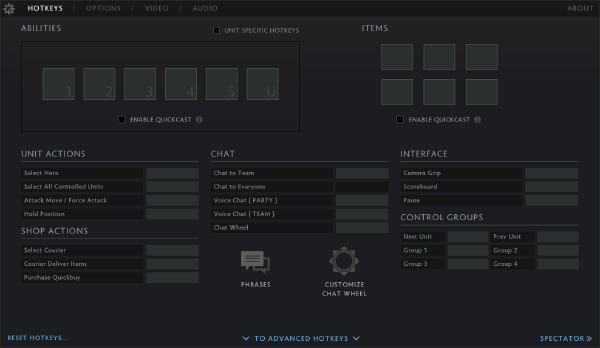 Abilities
Each hero has his abilities, both active and passive. To use the active ability, you must press the button you defined in the settings in the hotkeys menu before the game. Such active skills can be as much as 6; it all depends on the hero.
Items
Like abilities, some items can be used both on your hero and on your opponent's hero, some items give your unique abilities and maybe inactive, therefore, choose wisely slots for each of the items so that you would be more comfortable to click on them.
Unit Actions
Hotkeys will help you respond more quickly to a particular situation. You can often notice that these are DotA 2 settings of pro players. It will also reduce the burden on the use of the mouse, which will give you more time for the correct and thoughtful, strategical move.
Chat
One of your main and greatest weapons in the game, since this game is a team plays one, and you will always need to discuss your tactics with the allies, you can do this by typing in text into a chat, and/or using a microphone for negotiations.
Chat Wheel
Quick access to pre-prepared phrases. Often, the settings pro players of DotA 2 in the chat wheel are filled with the phrases: "Attack," "Need Help," etc.
Shop Actions
Here you can choose convenient buttons for opening a store and buying items.
Interface
This tab will allow you to choose the hotkeys for such a useful function as the game pause and score table, in which you can see the score of your opponent, the number of your kill-death-support statistics.
Control groups
This feature will allow you to select a group of your units with one button.
Advanced Settings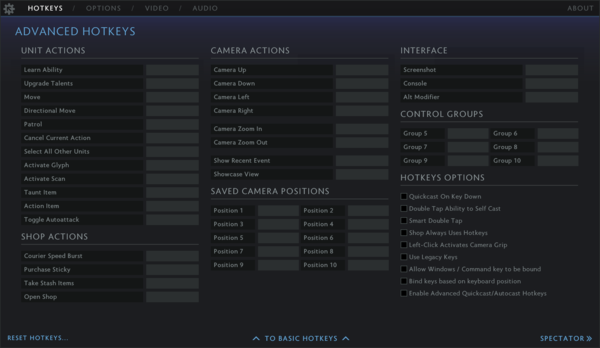 Unit Actions
Hotkeys for more convenient gameplay. These settings DotA 2 pro players can be very different.
Camera Action5a3bbfs
There is nothing to say since in all games of the MOBA genre, and the camera control is standard.
DotA 2 Pro player settings
If we talk separately about the configuration of DotA 2 pro players, then we are faced with the "pianists" and "virtuosos" of the game. You have to consider not every player can handle this kind of settings. But if you still want to see the settings for pro players of DotA 2, we can help you, write comments, and we will add such an article.
🎮 What are the settings on Dota?
🧩 Dota 2 settings are divided into three main categories. Hotkeys, gameplay and graphics/sound options
🎮 Where is the setting option?
🧩 The configuration option is located in the second tab of the settings menu, it consists of the settings of the game, mini-map, camera, profile, network, chat.
🎮 Why do you need an auto attack?
🧩 This is an optimal setup, especially useful for beginners. When using this feature, your hero will automatically attack a nearby unit after using the ability or after you have killed the unit with a normal attack. This is very convenient and practical, especially in group combat. Minus, your hero may start attacking the wrong opponent you want, so you should always be very careful in the heat of battle