Console commands and cheats for configuring CS:GO
CS:GO console commands are a flexible and multifunctional tool for managing game parameters. They allow you to change a wider range of configurations than provided in the standard graphical settings menu to customize the gameplay as much as possible for you.
There are many console commands and cheats available in CS: GO, but you don't have to know each one. Even pro players in the process of customizing game settings are often limited to a dozen teams. And it is also unnecessary to prescribe commands manually through the console window since the game supports batch loading of parameters as part of config files.
How to enable the console in CS: GO?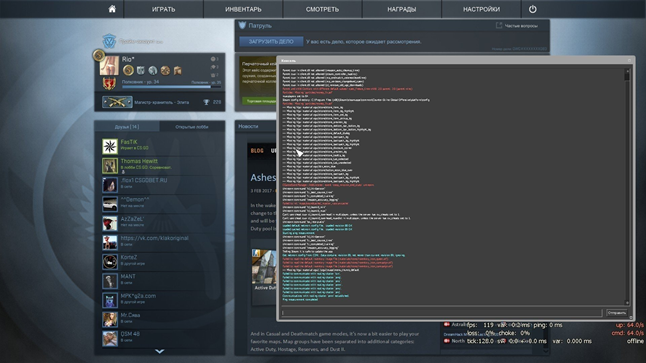 To enter CS:GO commands through the console, you must first enable it. This can be done in two ways:
set the command "-console" in the game launch parameters;
go to the standard menu of the CS: GO game settings and activate the "Turn on the console" option there.
Popular CS:GO console commands
There are various CS:GO configuration commands that exist. They can be conventionally divided into categories:
commands to configure the server;
commands for configuring the mouse;
commands for switching hands;
commands for setting graphics;
commands for radar changes;
commands for network connection settings;
commands for voice chat settings;
commands for budget settings;
commands for bots;
commands for cheat codes and trainers.
The most interesting and frequently used commands for CS:GO are presented below.
Commands for graphics and controls
mat_setvideomode [horizontal size] [vertical size] 1 – set your display resolution;
mat_queue_mode 2 – enable multi-core rendering;
cl_radar_always_centered 0 – center the map;
hideradar or drawradar – disable or enable the radar;
mat_disable_bloom 0 or 1 – disable or enable bloom;
net_graph 3 – enable displaying FPS;
r_dynamic 0 – activate dynamic object lighting;
sensitivity [number] – mouse sensitivity;
m_customaccel 1 or 0 – enable or disable mouse acceleration;
m_rawinput 1 or 0 – enable or disable direct (hardware) connection to the mouse bypassing the OS software.
Commands for Server
mp_restartgame 1 – server restart;
mp_startmoney [number] – the amount of money at the start;
mp_maxmoney [number] – maximum money;
mp_autoteambalance 1 or 0 – enable or disable team autobalance;
mp_roundtime [number] – duration of the round (minutes);
mp_maxrounds [number] – limit on the number of rounds;
mp_timelimit [number] – maximum game duration (minutes);
mp_buytime [number] – duration of the buy time (in seconds).
Commands for Bots
Special CS:GO commands for controlling AI opponents allow you to play independently in the training mode when there is no way to play or connect real allies and rivals.
bot_add – auto-add a bot to a team with fewer players;
bot_add_ct – adding for ct bot;
bot_add_t – adding t bot;
bot_difficulty [value from 0 to 3] – sets the level of difficulty of bots;
bot_kick – remove bots from the game;
bot_kick [name] – remove the bot with the specified name.
Console cheats CS:GO
Console cheats in CS:GO does not cheat in the full sense since they can be used legally in the lobby, and these features are not available on official servers. To use cheat commands, you must first enable them in the console by entering the command "sv_cheats 1" (where 1 is enabled and 0 is disabled):
mat_wireframe 1 (0 – disabled) – enabling view the base of walls;
god – immortality, re-issuing the command turns it off;
r_drawothermodels 2 (1 – disabled) – command for WH in CS:GO, which allows you to look at enemies positions throughout the walls;
ent_fire! picker addoutput "modelscale 0" – command for AIM in CS: GO, which allows you to kill all enemies with headshots without aiming;
give weapon_ [name of the weapon or equipment] – gives weapons or equipment without buying and spending money.
Among other popular cheats, the bunnyhop (bhop) commands are worth mentioning. They allow you to move constantly jumping, while not spending the player's stamina:
sv_enablebunnyhopping 1 – enable command;
sv_autobunnyhopping 1 – enable automatic bhop when pressing the spacebar;
sv_maxspeed [number] – setting the maximum speed of the jump;
sv_staminalandcost 0 and sv_staminajumpcost 0 – are cheats so that stamina does not go away during bhop.
FAQ

Is the AIM command available in CS:GO in official games?
Official servers do not allow the use of CS:GO cheats. The console will not allow them to be used. Using other tools to gain an unfair advantage will result in a VAC ban.
Can I get banned for cheating on my server?
There are no sanctions for playing with cheats in the lobby against bots or friends. You can use them without fear of a VAC ban.
How to enter console commands all at once?
To enter several commands at once, they must first be written into the config file, put it in the folder of the game's CFG files, and then invoke the console's exec command. You can also use the launch options panel for this.